What's Happening at Center Grove…
Keep up with our ministry events that are in action for Jesus!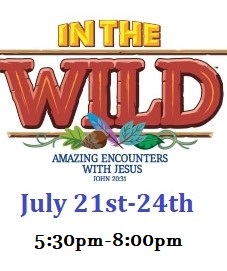 Center Grove invites you to throw on your camera
strap and buckle your seat belt.
VBS 2019 takes you on a wild adventure —with elephants and egrets, polar bears and penguins,
cockatoos and crocodiles.
As you seek out exotic animals, you'll also find snapshots of real-life encounters with Jesus in Scripture.
Kids and adults will go from bewildered to believing as they get In The Wild at this summer's VBS.

Saturday, August 3, 2019 11:00am-2:00pm
Tennis Shoe Distribution Infant-12th Grade
Child MUST be present to receive shoes.
(Shoes will be given out on first come first serve basis)
Each Child will receive the following:
The Gospel Presented

Their feet washed in the name of our Lord Jesus Christ

A new pair of tennis shoes & socks.

Snacks, games, and a hot dog lunch for the family will be provided while waiting.
For Further Information Contact:

Join us the 4th Saturday of each month
Adults $7.00 Children 6-12 years $1.00
Under 5 years old is Free
All proceeds go towards our Building Fund